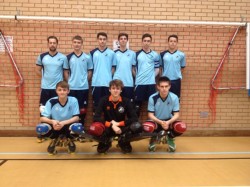 Sunday 16th November took us to Lynnsport for our first ever ND1 tournament. A great start for the club, 4 games and 4 wins.
Game 1
Our first game was against Kings Lynn. A very resilient side who held us at bay for nearly 10 minutes before we broke the deadlock. Three goals in each half, a good 6-1 win to start the season off.
Goal scorers: Alex (5), James (1)
Game 2
The second game was against an under strength England Ladies team, who were much improved from their first game. However, we proved too strong with 7 goals in the first half and 2 more in the second. Final score 9-0.
Goal scorers: Scott (4), Robbie (2), Alex (1), James (1), Sam (1)
Game 3
We played Maidstone in our third game of the day. Maidstone, a team of generally older players, gave us a fairly physical encounter, but were no real match for our pace and movement. 5-0 up at half time, we eased off and rotated players to conserve energy for our last game. Although we conceded a couple of goals in the second half, the result never really looked in doubt. Final score 5-2.
Goal scorers: Grant (1), Robbie (1), Alex (1), James (1), Scott (1)
Game 4
Our final game of the day was against Ely, a good team also of a similar age to ours. Good flowing hockey which we dominated for large parts of the game. 3-0 up at half time and that is the way it stayed. A good game to end on with the most pleasing element of the day being our solid defence with a lot of credit going to our goalkeeper, Tom, who only conceded 3 goals in over 2 hours of hockey.
Goal scorers: Alex (2), Scott (1)
On behalf of everyone, we would also like to thank Harry and Scott for taking a share in the referring for the day.
Well done all.