As Christmas draws close and we enter the seasonal break in the hockey calendar, we can reflect on the season so far. With all four of our senior leagues well underway, November brought yet another new venture for the club as we entered the two legged European CERS Cup. Our home leg was played at the Arena in Herne Bay, a great night of International hockey brought to these shores as we teamed up with Kings Lynn to play both our home legs on the same evening. We were under no illusion of the enormity of the task ahead. Our opposition were Saint Omer who are currently top in the French premier league and a team of semi professional players who have the luxury of training four times a week on their own rink. Our team was made up of players who primarily train once a week on a rink which is unsuitable for international hockey and either work or attend university funding all their hockey personally. Despite all of this, and with an average team age of just under 19 years old we gave an incredible performance in front of our own crowd. Losing 7-1 even more remarkable when you consider we were 6-1 down at half time, only conceding once in the entire second half.
For our second leg, we took a coach from Soham with the team and supporters for a weekend to Saint Omer playing at their rink in front of several hundred people. Again our players rose to the occasion holding Saint Omer at bay for nearly 15 minutes before they broke the deadlock with a penalty, a second penalty and a goal from open play seeing us close at half time 3-0 down. A truly brilliant performance by these young men of Soham RHC when you consider how desperate Saint Omer were to put a show on for their home crowd. Five more goals came in the second half as we eventually lost 8-0. In a funny way both teams achieved their aims, Saint Omer progressed to the second round and for us we tested ourselves against a very good team and for parts of both games held them at bay and created good opportunities to score.
A brilliant experience for the team and everybody involved with the club, we enjoyed the hospitality of Saint Omer, made some new friends and more importantly raised the profile of our club.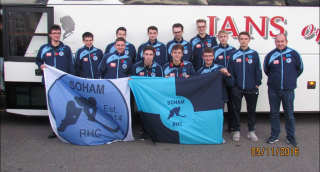 With less than a week passing since we all returned home, Soham staged its first tournament for new players to the sport. A truly marvellous day was had by all as we staged a round robin tournament involving 8 different teams playing a total of 28 matches throughout the day, with the youngest players only 4 years old. The day ended with a party for everyone and we even had a visit from Santa.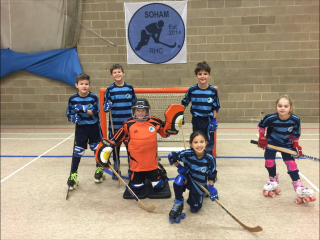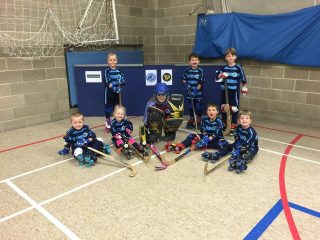 Roller Hockey is not for the faint hearted as for many of the people attending on Saturday it was off home at the end, straight to bed and ready for an early start on Sunday morning for our EC2 home tournament. The team enjoyed a great Sunday with 4 wins out of 4 pushing them to the top of the league table along with our EC1 team for at least the Christmas break.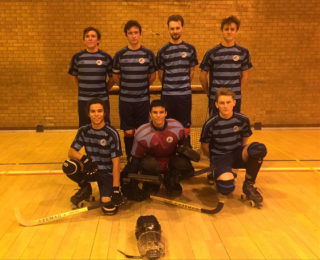 Well done to everybody at the club and thank you to the endless stream of helpers who work tirelessly behind the scenes to make Soham RHC so good to be involved with.