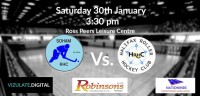 Soham returned to their winning ways on Saturday with a comfortable win over Halifax. We opened the scoring in the second minute of the game and from that point onwards the result never looked in doubt, a very solid first half performance closing for the break 6-1 up.
The second half started well for us as we opened the gap further. With such a comfortable lead we started to relax and lost a bit of concentration costing us a couple of goals. Final score 10-4.
A good day at the office for Soham's young team who coped very well with Halifax's clear frustration throughout the game. Another young man worthy of a mention was Conor Colbert, who equipped himself again very well to the job, our thanks go to him and Dave Fothergill for giving their time up to referee the game.